Who we are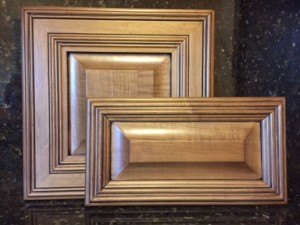 EWPdoors
Our doors can take a cabinet from an elegant design and transition it in to a rustic feel, or maybe you're looking for a more coastal design. Or maybe a southern contemporary look. Just by changing the door design. You can paint it, stain it, pickle it, destress it, pretty much any finish you want. It can be built from many species of wood, but it all begins with the door. The construction and quality of workmanship is what you come to expect from EWPdoors.
Here at EWP we have been doing just that for nearly 20 years. Over those years we have built just about every design imaginable. From many foreign and domestic species. With many loyal customers. If you need a 1000 doors or just 1, we are here to serve. The only dumb question is one not asked. So email me @ drwarren45@yahoo.com or call me @ 1-800-637-7208.
Thank you for looking
Don Warren
Owner
Tips for helping you pick your doors.
1
First are you painting or staining? This will help decide what species of wood you will want for the construction.
2
Second a lot of detail on very little detail. This will help decide what stile and rail design your looking for. The stile and rail are the four parts that are milled to fit together, and surrounds the panel, and holds the panel in place. If you're looking for a lot of detail, look at the Mitered stile and rail. Or maybe a traditional look, the Cope and stick design. And the Shaker style is the stile for southern charm.
3
Third the panel profile. This too will help decide what the panel will be. Flat with no detail, flat with V grooves or raised with different profiles. The panel is where the grain in some woods get to show off.
4
Fourth the outside edge, if needed most Mitered designs don't require an edge detail.
5
Fifth the sizes, the width and height you need built.
6
Sixth are the drawer fronts. They are pretty much built like the door unless you want a simple slab with an outside edge.
Pick one of the three designs
Cope and Stick
Mitered stile and rail
Shaker style
Pick the panel profile
Raised
Flat
Pick the out side door detail 
Pick the drawer front detail